Everything to Know about A Leaky Faucet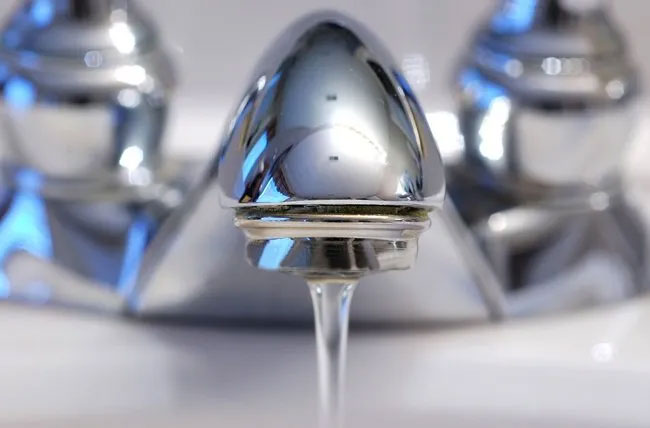 A leaky faucet is more than just a nuisance—not only can a leaky faucet waste a total of 3,000 gallons of water a year, but it can also double or even triple your water bill.
Fortunately, repairing most faucets can be easy to do yourself, or you can call a professional like Joe The Plumber to help.
Call Us
Identifying Your Faucet
There are three common types of faucets: rotary ball faucets, ceramic disc faucets, and cartridge faucets. All three have different identifying features that make it easy to tell them apart.
1. Rosary Ball Faucets
Rotary ball faucets are the most common in kitchens, characterized by a single handle that moves over a round ball above the base of the sink. These types of faucets tend to leak more than others due to the extensive number of parts inside.
2. Ceramic Disc Faucets
Ceramic disc faucets are a recent development and are famous for their durability. Ceramic faucets are identified by a singular lever on top of a cylindrical body, mixing hot and cold water. These faucets control water flow and temperature using two ceramic discs. Water flow is controlled by moving the handle up and down, while the temperature is controlled by moving the handle left or right.
3. Cartridge Faucets
Cartridge faucets are best characterized by two handles. This faucet does not require pressure to control the handles. The handles are very smooth to use, turning easily and consistently. For more information, check out our plumbing services. We serve the Tomball, Katy, Magnolia, Cypress, and Spring areas.

Detecting A Leaky Faucet
Typically, there are two places that water can leak: the spout or the base. With a spout leak, water may slowly drip out of the faucet after the water has been shut off. This type of leak drips slowly, eventually dripping into a bigger problem. Placing a paper towel in a dried, turned-off sink for a few hours is an easy way to detect a leak. If the paper is wet, there's a spout leak.
A base leak occurs primarily when water is running and pools together. To check for a base leak, be sure to dry the base completely and then turn on the water. Keep an eye out for any water leakage from the base onto the countertop.
It's important to identify which one is affecting your sink. Fixing a spout leak requires different tools and instructions in comparison to a base leak, so the problem area must be identified. If you are looking for a plumbing inspection, contact us today.
Hire A Plumber
Often, even the simplest of repairs can be stressful. If you experience any difficulty repairing your sink or lack the proper hardware, it's time to call an expert, like Joe the Plumber. Since 1999, Joe the Plumber has been providing quality care and expertise to the greater Houston area. With outstanding customer service and free estimates, it's never been easier to get the help you need. To schedule a consultation or for any questions, please give us a call.